About the Company
PawsLikeMe helps people and pets find each other and live happier lives together. That's our mission. It's why we exist.
How can we do this online? PawsLikeMe has developed algorithms that identify the most important factors that determine compatibility between people and pets. We believe that pets are unique individuals, just like us, and adopters lack access to the guidance needed to identify pets will be a truly great fit for their personality, lifestyle and household.
It's not just any 'ol Quiz
What looks like a simple quiz on the surface, has a lot going on behind the scenes... We Beta tested our algorithms with over 3000 participants for over 6 months , and achieved an average 91% match accuracy, before even launching the first public version in 2015. Our staff monitors adopter feedback, and shelter success metrics on a regular basis, continually improving the algorithm's accuracy based on real results.
We're Changing the Face of Adoption Forever!
(Seriously we are)
Our work in rescue taught us of the need to keep animals out of shelters. The euthanasia statistics are staggering, and the lives lost will never be regained. Though the numbers are improving, too many animals are euthanized each year, and PawsLikeMe wants to help make that number even smaller by giving current guardians,shelters, and rescues an alternative path to finding a new home for a pet.
Benefits of Peer-to-Peer Rehoming
Pets that go from home to home avoid the shelter altogether, and transition very easily to a new home
Adoptive families benefit from a complete history on their adoptive pet, including medical and behavioral
Our matching algorithm ensures a good fit between a rehomed pet and your specific needs
Why It's Important
No matter how you adopt adopting a dog into the family is a big decision! If you have human kids and other furry kids the decision gets even more complex. You want to do the right thing, and you want to make sure that your family is safe and that you're bringing an animal into your pack that won't cause trouble.
We know this because we all have families, and we all choose to adopt. It's one of the main reasons that we developed our matching algorithm to help people and pets find each other.
How Matching Works
We measure both humans and canines across four personality dimensions:
Energy

Independence

Focus

Confidence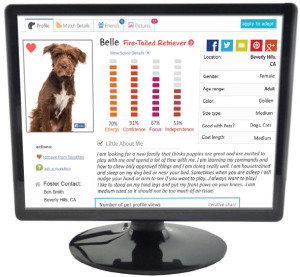 Personality is the most important factor to consider when adopting a dog
Energy - here we measure physical and mental energy. Dogs with high energy tend to be very motivated and active. Dogs with low energy prefer the lazy life and won't go out of their way to keep entertained.
Is there anything better than binge watching your favorite show with your dog on your lap or at your feet? Do you want a dog close by you? Your Independence score will let you know.
Independence - Independence measures a dog's level of affection. Very independent dogs are happy with minimal physical contact; a glance or kind word makes them happy. Dogs with low independence thrive on being petted, giving kisses, and being in contact with someone as frequently as possible.
Focus - the Focus dimension measures a dog's ability to concentrate on a given task. High focus dogs are not easily distracted and are well suited for advanced training. A low focus dog is spontaneous in play and easily distracted.
Confidence - here we measure the dog's level of security. Dogs with high confidence confront new situations and people with no hesitation. Dogs with low confidence will need more guidance and reassurance in their daily life.
Then we measure what people (you!) want and bring people and pets together. We know it's not all about the numbers and that what your dog looks like is another very important consideration, so we have pictures on our site too, and there are plenty of filters for preferences like breed, size, age and gender.
Are you looking to adopt a dog? Do you want to find a canine match? If you haven't done so already, go ahead, take the quiz! pawslikeme.com You just might find the right dog and fall madly in love!